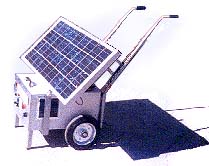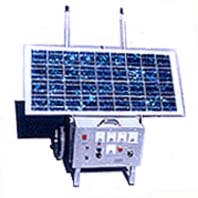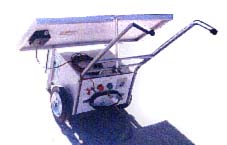 PORTABLE COMPLETE SOLAR UNIT
This is a Portable Solar Unit. It can be transported anywhere you need AC
current. By removing the solar panel and the handles it can be dismantled
to fit easily into the trunk of a car.

* In use, the solar panel is fully adjustable in order to access the maximum
benefit from solar exposure. More solar panels can easily be added.
* There is a built-in battery charger, which may be utilized to charge the
battery with an external AC current. There is a cable for electrical
connection to either standard electricity or a diesel generator.
Possibly to be charged easily from your car's alternator.
* The unit contains reinforced plugs, suitable for connecting extension
cables capable of starting a car or connecting additional batteries in
parallel for more DC electrical storage..


Technical Particulars of this Unit
---
In this unit, are build-in :
- INVERTER(sine wave) OutPut 220/110 AC 1000w
- SOLAR PANEL (multicrystalline silicon )... 50w/hr
- BATTERY (Sonnenschein-Gel) ................... 80AH
- BATTERY CHARGER from AC current ... 25A/hr
- SOLAR CHARGER REGULATOR .......... 10A/hr
P.S.) Click the animating balls for details


Whole Sale Price of this unit - ex ware house: .. 1.950 euro
For INVERTER of 1500w, additional ............. 300 euro
For INVERTER of 2000w, additional ............. 450 euro
For INVERTER of more watts, ................................ call
The "WorldWide Yachting Directory" for Yachts & Boats for Charter or Sale all over the World.

The Greek Renewable Energy Center

ARGO TRADE Inc. Volos - Greece
For more information please Contact


Who We Are