This is the telephone pole through which all
my INTERNET-DATA comes.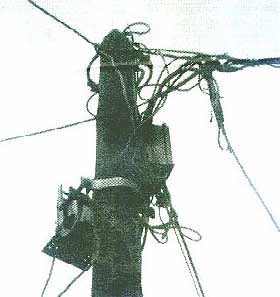 It seems that OTE (The Greek Public Monopole Telecom Organization) proved
that you do not need special telephone cables for passing Data.
This pole is planted in Volos - Greece.
After all I am even charged over 1 US$ per 3 hours to make use of this pole for my INTERNET-DATA.
On 1rst January 2001 the Monopole (Slavery) of OTE ends and we will taste the Freedom of the Telecom.

---



VISIT THE "ALL EUROPE PROTEST" AGAINST TELECOM COST.

Listen to" ArgoVolos-Greece Radio Station "
To listen to ArgoVolos-Greece Radio Station you'll need to have installed a media player.
You'll need either the G2 player from Real Networks or Windows Media Player from Microsoft.
---
THE EUROPEAN REGULATION
FOR THE TELECOMMUNICATIONS
written in Greek.
Advertise on the web's largest network to grow your traffic.

A Portable Sun Generator

The Greek Renewable Energy Center

...You are a click away from a Yachting Paradise...